Beer battered cheesy bread in cast iron is a simple yet delicious recipe. The best thing about this recipe is that are many variations you can try. You can switch up the flour, the herbs, the cheese, or the beer. This is an affordable recipe to make so trying out different variations doesn't break the bank.
Creamier cheeses like gruyere or gouda work well with this recipe as the creaminess pairs nicely with the herbs and the beer. Most recipes call for a light beer but I made a batch of cheesy bread with a red ale and it turned out great. The red ale was a great combination with the gouda and the herbs I used.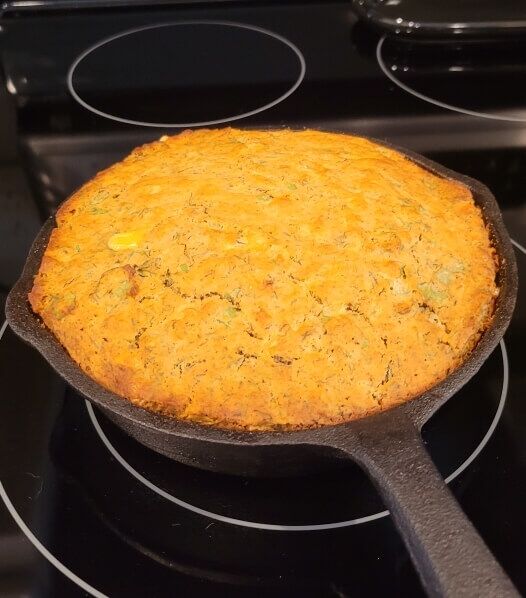 Beer Battered Cheesy bread pairs well with soups, chicken, red meat, and pork. It's also a perfect snack or tailgate food. The bread is packed with flavor and it is delicious by itself. Warm it up and top with herb butter for a special treat! The herb butter (see recipe below), like the beer battered cheesy bread, has endless variations. Mix and match the herbs for different flavors or add or subtract the amount of herbs that you use for different flavors.
This is a great recipe for a number of reasons. The ingredients are not expensive, the preparation is easy, and the variations are endless. This is a recipe you will return to again and again. The bread recipe is a base recipe. What you add to it, or take away from it, you can easily make this recipe yours.
Here is What you Will Need for a Cast Iron Beer Battered Cheesy Bread
Flour -You can use a variety of flours for this recipe. Generally, you would use all-purpose flour but gluten-free and other alternative flours work just as well.
Minced herbs – I chose rosemary and thyme for this recipe. You can add any herbs that you please. You also are not limited to two types of herbs, either. You can add as many as you choose. If you choose to use more than two herbs, however, you should lessen the amount of each one so you don't overpower the other flavors. You can put two types of herbs in the bread and two other herbs in the herb butter or you can use the same herbs in both.
Sugar – Sugar counterbalances the tartness of the bee and adds a sweetness to the bread.
Baking Powder – This recipe calls for a larger amount of baking powder. This is because this bread is thick and heavy. The chemical processes of the baking powder will make the bread lighter and airier.
Salt and Pepper – Salt and pepper add a hint of flavor to the bread.
Cheese – This recipe calls for Gouda. Gouda is a creamy cheese that pairs nicely with beer, particularly a red ale. Other cheeses can be used instead. For instance, smoked gouda adds depth and smokiness while gruyere cheese adds even more creaminess.
Beer – Most recipes call for a lighter ale, and for good reason. This recipe calls for a red ale because red ale pairs well with gouda and bread. A dark ale would work too. Again, it's all about personal flavor preferences.
Unsalted Butter – Unsalted butter gives you control of the overall flavor of the bread. The salt that is added is sufficient. It is best to melt the butter first so that the butter does not clump and make the finished product gooey. Unsalted butter is good for herb butter because it brings out the natural flavors of the herbs.
Let's Discuss How Easy the Preparation is
Place the oven rack in the middle position and preheat the oven to 450℉. Grease a 10-inch cast iron skillet with a dab of oil and apply it with a paper towel to the skillet.
While the oven is preheating, whisk the flour, herbs, sugar, baking powder, salt, and pepper together in a bowl. After the dry ingredients are blended, mix in 1 ½ cups of gouda cheese. Mix the ingredients together until the gouda is covered in the flour. Finally, pour in the beer and melted butter and mix together. The batter will be thick, so be careful to not over mix.
Pour the batter into the cast iron skillet and smooth out the dough with a spatula or wooden spoon. Top it off with more cheese and place it in the oven and bake for 20-25 minutes, or until an inserted toothpick comes out of the center clean.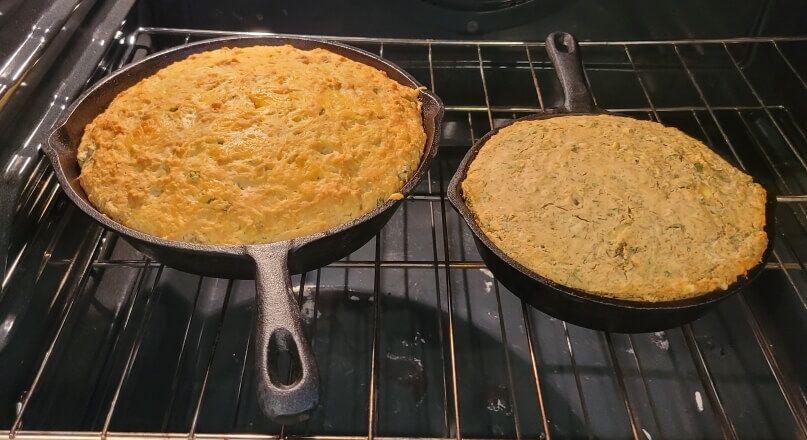 Other beer works well with beer batter cheesy bread. Each style of lager will alter the flavor profile of the finished product. Light and red ales work the best because they are not as heavy as dark ales and they add a lighter flavor.
There are plenty of options when it comes to the cheese selection. Any white, soft cheeses are perfect for this batter. However, hard, yellow cheeses will work so long as they are finely grated. The thing to remember here is that cheese will clump together as it melts. This is why softer cheeses are best to use. Another key in this step is to evenly distribute the cheese so that it melts evenly throughout the bread.
Herbs are another endless option. Basically, any herbs work in this bread. It really is up to personal preference. Rosemary and thyme are excellent choices. Tarragon will add a bittersweet note to the bread. A good combination is basil with chives and a pinch of garlic powder. Dill is another good option that pairs with basil, tarragon, and chives.
The choice of flour is also optional. For those who are gluten-free, substitute gluten-free flour for the all-purpose flour at a 1:1 ratio.
I used Himalayan pink salt for this batter, as I do for most batters. Pink salt is a healthier alternative to table salt and I think it has a more robust flavor.
What to Serve Beer Battered Cheesy Bread With
Soup is a delicious entre to serve with beer battered cheesy bread. Creamier soups would probably be best, but you can't go wrong with any soup with this bread. Vegetable, potato, and tortilla soup are great options. The bread is sturdy enough to be dipped in the soup and the flavor combinations from the herbs, the batter, and the cheese make a wonderful accompaniment to a bowl of soup.
Proteins such as steak, chicken, and pork pair well with this bread. The supplemental her butter also makes a delicious garnish on steak as well. The bread and the herb butter will make any meal burst with flavor.
Pasta goes well with any bread but especially this one. Again, the herbs and cheeses pack a lot of flavors and will bring out the best in any pasta dish. The herb butter is a flavorful accompaniment to any pasta dish. If gruyere cheese is used in the beer batter, homemade spaetzle made with gruyere cheese is a perfect choice.
Baked chicken parmesan is a dish that is made with cheese, breading, and tomato sauce. All of these flavors are accentuated by the flavors of the cheesy bread.
How Long Does Beer Battered Cheesy Bread Last?
Beer battered cheesy bread, if stored properly, lasts for 4-5 days. The bread can be stored in an air-tight container at room temperature for a day after it is baked. After that, it is recommended to store the bread in the refrigerator. Beer bread can also be frozen once it is completely cool. Wrap the bread in two sheets of plastic wrap and place it in an airtight Ziploc bag and freeze for up to three months. To reheat the bread, wrap the bread in foil and bake at 350℉ for ten minutes.
There it is. A delicious bread that is simple to make and has endless flavor combinations. The preparation is easy, the cleanup is easy, and the bread is hard to mess up. This recipe will quickly become one of your favorites, especially as you start to mix and match different beers, herbs, and cheeses.
Beer Batter Cheesy Bread Goes Along Great With Some Herb Butter
Ingredients
4 T unsalted butter
1 t chives
1 t rosemary
1 t tarragon
Steps
While the beer battered cheesy bread is being prepared, allow the unsalted butter cool to room temperature. Once the bread is in the oven, add the slightly melted butter and the herbs in a bowl and mix until the ingredients are well blended.
Lay a sheet of clear plastic wrap on the counter and add the herb butter. Wrap the plastic wrap around the butter and twist the ends shut. Roll the butter with your hand until a log forms. Place in the refrigerator so that the butter re-hardens. Serve as a garnish for the beer battered cheesy bread.

My name is Jason Phillips and I cooked for many years, primarily aboard Merchant Marine vessels and in fast-paced commercial kitchens. My passion for culinary arts led me to attend a culinary arts academy in 2019 where the instructor piqued my interest in food and beverage writing.