Cauldrons are some of the oldest types of cookware ever since humans started using metal. In fact, cast iron cauldrons were best known for being used by witches back in the day. Now maybe you're a believer, or perhaps not, but either way, cast iron cauldrons are one of the coolest ways to cook over an open fire.
People from all walks of life are intrigued by the history of the cast iron cauldrons; even some collectors today have surviving cauldron artifacts that date back to the Bronze Age. And they're still in use today, although they lost some popularity along the way. Some people even buy them for decorative reasons only.
Here are some of the best cast iron cauldrons you can buy today, listed in the order of their size, from small to large. Depending on your intended use, we're sure you will find one to suit your needs.
1. Lodge Mini Cast Iron Cauldron
If you're looking for the perfect mini cauldron to add flair to your meals or campsite, then our pick for the smallest and most efficient cast iron cauldron is a must-have. With its patented heat-treating process, you can be sure that your cast iron cauldron won't get rusted.
This cast iron country kettle cauldron is perfect for serving fondue, soups, chili, or stews. You can also use it for boiling water to cook other foods such as veggies, eggs, meat, etc. The cast iron construction will keep all your food warm for hours while you enjoy the atmosphere.
We loved how this cast iron cauldron has a trio of integral legs for standing upon any type of surface, plus the wire bail handle makes it easy for moving the cast iron cauldron around.
Capacity: 18 oz / 530 ml
2. Pre-seasoned Cast Iron African Cauldron
If you enjoy cooking over fire coals or a gas burner, then you can't go wrong with this cast iron cauldron that retains heat and only needs a few embers to continue simmering whatever you fancy inside your cauldron. The dome-shaped lid allows for the best internal heat circulation throughout the entire cast iron cauldron, which helps prevent foods from burning.
We loved the vintage wooden storage box that comes with this cast iron cauldron; it makes storing it very easy. If you're looking to add the amazing authentic South African taste to your cooking, then is pre-seasoned cast iron cauldron is perfect!
Capacity: 7 Quarts / 6.6 L
3. Cast Iron Campfire Kettle
We adore how this cast iron cauldron made for cooking over the fire has an old-world appeal. The shape of this campfire kettle is perfect for making all kinds of meals, including all sorts of wonderful soups, and allows the steam and ingredients to mix inside the pot for more flavors to be unleashed.
The heavy-duty, durable cast iron construction will hold up to years of fun-filled camping and fireside on your property or campsite. You won't need to worry about the stability; the three legs give this kettle everything it needs to remain balanced at all times. You can also add on a tripod for easier fireside cooking (sold separately) if you want the cast iron cauldron to rise above an ongoing campfire.
Capacity: 2 Gal / 7.5 L
4. KUDU Enamel Cast Iron Cauldron
This KUDU cast iron cauldron, aka Dutch oven, takes camping to a whole new level. The cooking and baking possibilities are unlimited, choose from brewing stews to slow-roasting any meats, and even the option to bake some bread. Its gorgeous green exterior is enamel coated for a durable finish.
You can place the cast iron cauldron above your campfire or directly in the coals; either way, it will cook your food optimally. The metal handle makes toting your cast iron cauldron around simple, and we suggest adding the Dutch oven hanger to take your cooking up a notch over the open flames.
Capacity: 7.8L / 23 lbs.
5. Heavy Duty Cast Iron Jambalaya Pot
This heavy-duty Jambalaya Pot from King Kooker is precisely what any chef would want to use when making jambalaya over burning coals. It doesn't get more surreal than using this cast iron cauldron for all your cooking needs outside. In fact, you can prepare all of your favorite foods with the King Cooker 5 Gallon Cast Iron Jambalaya Pot.
It is made from heavy-duty cast iron and features three feet for stability. The aluminum lid keeps all your contents warm while preparing the rest of your meal. There are two side handles that make transporting this cast iron cauldron practical.
Capacity: 5 Gallons / 19L
6. Bayou Classic Cast Iron 30-gallon Stew Pot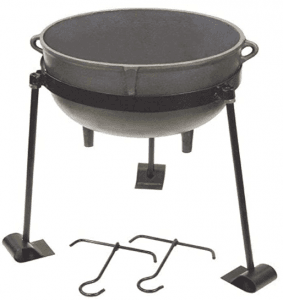 If you take cooking over an open flame seriously, then you can't go wrong with this cast iron cauldron. You'll be able to cook any stew or jambalaya for all your friends and neighbors; you'll be the hit of the campsite. This Bayou Classic cast iron cauldron comes with a steel tripod stand to support the pot at the appropriate height over the firepit.
This cast iron cauldron resists rust with its perfect seasoned exterior, and it also makes clean up a breeze. You can add an aluminum lid, giant stir spoons, and paddles to make your outdoor cooking experience complete.
Capacity: 30 Gallons / 113.5L
What is a Cauldron Actually?

A cauldron is generally a large cooking vessel with a domed bottom. The domed base cannot stand by itself, so it either needs to have legs (usually 3) or some other support mechanisms. Here are some options for supporting cast iron cauldrons:
Three Legs – Many cast iron cauldrons are sold with legs; there usually are three legs that give the cast iron cauldron balance and stability.
Tripod – If your cast iron cauldron did not come with legs, you could purchase a tripod to easily support the cast iron cauldron over the firepit.
Where Can I Buy a Cast Iron Cauldron?
Cast iron cauldrons are gaining popularity again and are being sold from multiple places around the world. Depending on the size or design, you can easily pick one up from sites like Amazon, Etsy, eBay, etc. But don't limit yourself to the popular sources, you can search cast iron cauldrons on the internet, and plenty of metal works dealers will pop up who specialize in creating these as well.
However, suppose you're anything like us and want to find an antique cast iron cauldron, or you want to save some serious cash. In that case, we suggest heading out to some local yard or garage sales, old country type shops, rummage, or antique stores to see if you can find an old used cast iron cauldron that boasts with history from of all of its ancient usage.
How Much Does a Cauldron Cost?
Depending on the size of cast iron caldron you are looking to buy, and if you want to purchase one brand new or used, the prices will vary greatly. However, we can tell you that small cauldrons can be found under $20 used and $40 brand new, while the larger cast iron cauldrons can be purchased anywhere from $50 to hundreds of dollars.
Just like everything else in life, there are brands and quality that make the prices of cast iron cauldrons fluctuate drastically. If you were lucky enough to score one at a garage sale or rummage sale, you might be spending only $20 for one of the coolest cast iron cauldrons still left to be found.
What to Look For in Cast Iron Cauldrons?
Depending on your personal style or the desire for usage, you'll want to consider a few things before purchasing a cast iron cauldron. If you plan on using your cast iron cauldron for cooking over hot coals or an open flame, we suggest the following tips:
Check to be sure it is entirely made of cast iron.
Look at the maximum capacity for cooking if you intend to use it for big meals.
The pot itself should not be too thin as it may crack when used over high temperatures.
Find out if it comes with elements for support, such as legs or a tripod.
Inquire about the lid; does it come with one, or do you need to purchase it separately.
Check if the cast iron cauldron is enameled or protected.
If you're looking to purchase a cast iron cauldron for decoration purposes only, these tips might not matter as much as the cauldron's authenticity. For collectors, there are many details you will need to look into in order to be sure that the cast iron cauldron is precisely what the seller claims it to be.
Many people are selling cast iron cauldrons for high-end pricing without supporting evidence of the cauldron's history. Don't pay top dollar for a cast iron cauldron claiming to be used by your ancestors if there isn't any way of proving that is the case.
Seasoning and Cleaning Your Cast Iron Cauldron
You should treat your cauldron just like you would with any other piece of cast iron cookware and season it before using it. This can quickly be done whether your cast iron cauldron is brand new and has never been used before or if you picked it up at a garage sale. Either way, you'll want to make sure it is appropriately cleaned and seasoned accordingly.
Follow these easy steps to clean and season your cast iron cauldron:
Step 1 – You'll want to thoroughly clean your cast iron cauldron regardless of the condition you bought it in. You'll want to scrub the entire cast iron cauldron with either a stiff-bristled brush or maybe a steel wool brush while using hot water and very mild dish soap.
Step 2 – You'll want to use a towel to dry your cast iron cauldron and then place it upside down on a towel or on a warm stovetop to ensure it dries out completely. You don't want to leave any moisture in your cast iron cauldron because that will promote rusting.
Step 3 – Once you're positive your cast iron cauldron is completely dry, you can use a paper towel to apply a thin layer of oil to the entire surface, including the bottom and outside of your cast iron cauldron. Don't use too much oil, or you will make your cast iron cauldron very sticky and messy. We suggest using vegetable oil for this process, but avocado and flaxseed oils have become quite popular and withstand higher temperatures, and have been known to last longer.
Step 4 – You'll want to bake the oil on your cast iron cauldron while it is upside down for approximately one hour @ 325° and then allow your cast iron cauldron to cool completely in the oven before trying to remove it. You might want to place some foil or line a cooking sheet with foil to put on the bottom rack of your oven to catch any oil that might drip off the cast iron cauldron. You can repeat this process as many times as you feel necessary to get the seasoning you desire.
If you have a larger cast iron cauldron that won't fit in your oven, you can does this process over an open flame. Be sure that your cauldron is secured and stable before attempting to leave it there. And be sure that your cast iron cauldron is completely cooled off before you try to touch it or move it.
Remember, cleaning your cast iron cauldron is very important, and making sure that it is completely dry is critical to whether or not your cast iron cauldron will withstand any rust. Once you've seasoned your cast iron cauldron, you ONLY need to follow the steps for cleaning it after each use.
Depending on the use, you can simply wipe out your cast iron cauldron with a hot towel and dry it entirely if there are no burnt food particles or excessive stains from cooking on the inside of your pot.