Cast iron loaf pans have been a staple in people's kitchens for many decades and are still as popular today as it was over a hundred years ago. The main reason is that cast iron bakeware offers something that most other materials don't, even steady heat. Not to mention that a cast iron loaf pan will last you a lifetime as long as you take good care of it.
Here are our top picks for the best cast iron loaf pans:
1. Enameled Cast Iron Loaf Pan
This creme colored cast iron loaf pan was designed based on the historic King's Cake from Germany and is exceptionally unique. The enamel coating covers the high-quality cast iron and makes this loaf pan incredibly easy to bake with and clean up. It offers even heat distribution so that your bread or any other foods are cooked evenly throughout.
You can use this cast in a variety of ways to include many different culinary dishes. It's considered to be an energy-efficient heat conductor and keeps your food warm for an extended amount of time. It also comes in black and turquoise.
Dimensions: 11.81 x 5.31 x 3.35 Inches
2. Camp Chef Cast Iron Bread Pan
If you remember watching your mother or grandma bake bread in an old cast iron loaf pan, then this one from Camp Chef will bring all those memories back to reality. You don't need a cover when baking bread in this cast iron loaf pan, and it's already seasoned and ready to go straight out of the box.
This cast iron loaf pan comes in the standard black coloring and is a rectangular shape. It offers even heat distribution that allows your bread crust to get golden brown. There are two decorative handles on the ends that make it easy to access in and out of your oven.
Dimensions: 11 x 2.5 x 5.25 Inches
3. Geoffrey Zakarian Cast Iron Dutch Oven
This massive cast iron loaf pan was designed with durability in mind, and the size is ideal for cooking roasts, braises, soups, bread, and a ton of other culinary dishes. Both cooking and cleaning are a breeze due to the non-stick coating, which is PFOA and PTFE-free. You'll be able to use this cast iron loaf pan for a lifetime, and thanks to the enamel coating, it's protected from rusting.
One of the best things about this cast iron dutch oven is that it can withstand temps up to 500° F and can be used both inside the oven and on your stovetop. It has a 6 Quart capacity and comes with a base and lid with handles for easy and safe mobility.
Dimensions: 15 x 9.5 x 6.9 Inches
4. The Challenger Bread Pan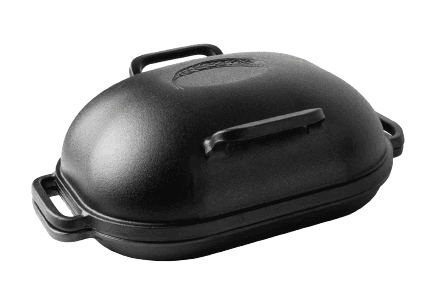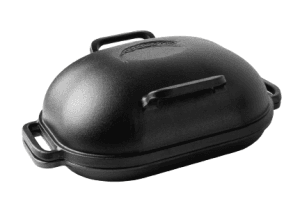 This cast iron loaf pan made by Challenger Breadware is definitely one of the finest cast iron pans for bakers worldwide. If you love baking bread, then you're going to love this bread pan. It has an excellent shallow base that makes putting the dough into the cast iron loaf pan super easy, and the sealed environment creates the perfect amount of steam each time you use it.
You can easily remove the cover while baking loaves of bread with the well-made top handles. It comes with a deep cover that allows your bread to rise and bake accordingly. It's one of the best cast iron loaf pans, and it is made in the USA.
Dimensions: 15.4 x 10.5 x 5.4 Inches
5. LoafNest Bread Pan
If you want the most straightforward cast iron loaf pan to make artisan bread, this amazing high-quality Dutch oven from LoafNest is a perfect choice. The professional non-stick liner makes this cast iron loaf pan one of the easiest to clean up when your done baking. You'll love the crunchy crust this Dutch oven gives your bread along with the soft, airy crumb.
This simple to use cast iron loaf pan takes all the guesswork out of making some of the best loaves of bread and consistently delivers excellent results. The color is a vibrant blue, and the shape is oblong.
Dimensions: 11.81 x 6.1 x 5.71 Inches
Advantages of Cast Iron Loaf Pans
Cast iron loaf pans are known to offer significant advantages over most other materials used for baking. In fact, one of the most significant things about cast iron loaf pans is their ability to resist high temperatures. Most cast iron loaf pans are currently safely used in ovens up to 500° F and can both distribute and retain heat evenly. We consider this the bonus, a bread that always bakes perfectly with a nice golden crust on top.
Something else that makes cast iron loaf pans better is that they are incredibly durable and relatively inexpensive. Your cast iron loaf pan should be able to stay in your family for generations and keep you company for many years to come. There is nothing better than knowing your favorite bread pan will always be there to bake bread, loaf after a loaf, without ever breaking down or looking burnt like so many other materials used with bakeware.
Here are the advantages of cast iron loaf pans:
Durable and Strong
High Heat Resistant (Up to 500° F)
Simple Maintenance
Easy to Clean
Vintage Appearance
Relatively Inexpensive
Lasts a Lifetime
If you take care of your cast iron loaf pan, it will return the favor by sticking around for many years. Often cast iron pans are passed down from generation to generation with some of the best recipes!
Is a Loaf Pan the Same as a Bread Pan?
The typical bread pan, aka loaf pan, is a pan designed to bake many different types of bread in. Its primary function is to shape your loaf of bread while it is rising during the baking process. Many people would agree that the most common shape of a bread pan is actually a narrow rectangle that resembles a loaf of bread.
Many cast iron loaf pans are used to make wonderful loaves of bread, but they can also be used for many other culinary dishes. The dutch oven cast iron loaf pans are a perfect example of the versatility these pans offer. Many are used for making stews, soups, casseroles, baked goods, and of course, for baking bread.
Do You Have to Bake Bread in a Loaf Pan?
When it comes to making various types of bread, you actually don't always need to use a loaf pan to get the desired results. In fact, there is plenty of artisan round bread and other recipes that call for using different types of cooking vessels. Some recipes might suggest using a cake pan, skillet, casserole dish, or even a cookie sheet.
However, if you want to make some of the best traditional loaves of bread that come out perfect every single time, then you'll want to use a cast iron loaf pan. They mold the shape of what a loaf of bread is supposed to look like, and they bake the dough evenly while revealing a nice golden color crust on top.
We suggest leaving the cookie sheets for all those fabulous cookie recipes and grabbing one of the cast iron loaf pans listed above for making all your bread.
Do Cast Iron Loaf Pans Need to be Seasoned?
Since a cast iron loaf pan is porous, and to reach its baking and full cooking potential, it needs to be seasoned with oil. It doesn't matter how old or ratty a cast iron pan might look on the bottom; cast iron can usually almost always be restored and brought back to life.
Just wash the cast iron pan really well, scrubbing away any rust with fine steel wool. Then be sure to dry it thoroughly, either in your oven at 300° F or on your stovetop over low heat.
Seasoning Your Cast Iron Loaf Pan
Whether you restored an old cast iron loaf pan or purchased a new one, it needs to be seasoned if it's still considered raw cast iron. Actually, we suggest seasoning a cast iron loaf pan even when it's new and says it was already pre-seasoned. Better to be safe than sorry!
Here are the steps to season your cast iron loaf pan:
Rub it all over with vegetable oil until it's completely coated
Bake for approximately 90 minutes @ 300° F
Wipe off any excess oil with a paper towel
This is what will make your cast iron loaf pan non-stick and can easily be used in an oven, stovetop, or campfire.
How to Take Care of Your Cast Iron Loaf Pan
After each time using your cast iron loaf pan, wash it with warm water and mild soap. Then be sure to dry the pan thoroughly before storing it; wiping it lightly with a little oil afterward helps prevent it from rusting.
Wrapping Up
If you want to make some fantastic loaves of bread without having to worry whether or not they are baking evenly, then you'll want to get yourself a cast iron loaf pan. Our top picks above are versatile in size and use; find one that matches your needs and start baking bread today!