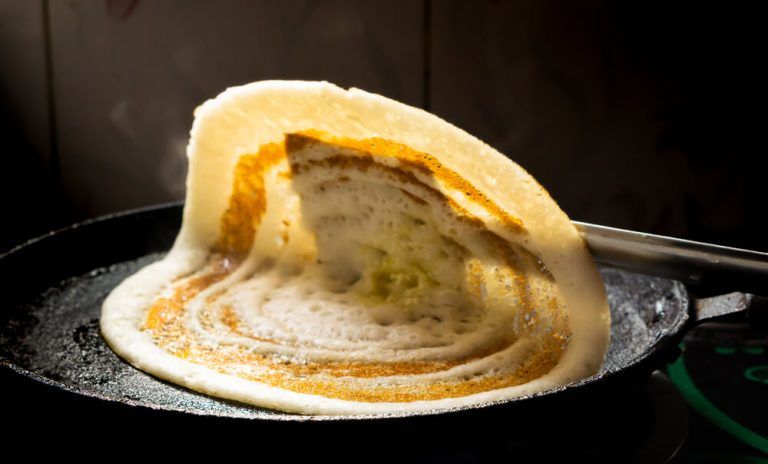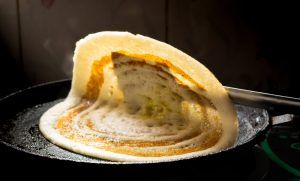 One of the best smells in the kitchen is when somebody is making roti and or dosas with their cast iron tawa. It's something that we remember as kids growing up, and now it's a tradition that we've brought into our own homes. If you're not familiar with what a roti is, well, it's the best flatbread you'll ever make, and the dosa is more like a crepe. Both are incredibly healthy and can be used with a variety of ingredients.
What we love the most is the fact that neither one of these take very long to cook; they can easily be prepared in under five minutes. The only tool essential for making the perfect roti and dosa is an excellent cast iron tawa. Below you will find our top choices for the best cast iron tawa's for cooking your roti and or dosa.
1. Victoria Cast Iron Dosa & Roti Tawa
This Victoria cast iron tawa is the perfect size for making your dosa and roti. It comes pre-seasoned with 100% non-GMO flaxseed oil, and it's equipped with a loop handle that makes moving it around incredibly easy. This cast iron tawa is made of high-quality cast iron and is very durable. It comes with a limited warranty.
Size: 15 inches
2. Rock Tawa Dosa Pre-Seasoned Cast Iron Skillet
The Rock Tawa Dosa comes pre-seasoned and has a round surface designed to give you the best results while making your dosa or roti. It can also be used to cook many other foods and lasts a long time when it has been taken care of correctly. It's easy to clean and can be stacked neatly when not in use.
Size: 12 inch
3. Lodge Pre-Seasoned Cast Iron Baking Pan
The Lodge pre-seasoned cast iron tawa comes with a large cooking surface and has handles on both sides, making it super easy to handle. You can count on your food being cooked evenly with the excellent heat distribution this cast iron tawa offers. This pan is not only great for making roti and dosa, but it also works well with searing, frying, baking, and grilling.
Size: 14 inches.
4. Nakshathra Cast Iron Square Tawa
If you prefer more of an open surface vs. the round tawa, then this Nakshathra cast iron square tawa should work wonderfully for all your cooking needs. It was created by artisans who have been doing this for generations. They are completely hand-made and chemical-free; the only thing used is the natural iron that has some added health benefits.
Size: 12×12 inches
5. Cast Iron Reversible Grill/Griddle
This cast iron tawa is more modern looking with its reversible option to cook on both sides. One side comes ribbed for searing the perfect steak, while the other is flatter and used to make dosa, roti, eggs, pancakes, etc. You can easily use this cast iron tawa both indoors and outdoors.
Size: 12 inches
Is a Cast Iron Tawa Good for Making Rosi and Dosa?
Absolutely! Using a cast iron tawa to cook your roti and dosa is probably the best tool you could have in your kitchen. In fact, just about every kitchen in South India is equipped with a cast iron tawa for making the best dosa and roti.
How to Season Your Cast Iron Tawa
Seasoning your tawa is the most important thing to do once you get one for your kitchen. We will walk you through the process of seasoning your tawa correctly and how to maintain it afterward so that it can be passed on through the generations.
Each manufacturer will provide the initial instructions on how to season your cast iron tawa; however, we suggest following the steps below in order to maintain the condition of your cast iron tawa over the years.
First, we suggest washing your cast iron tawa with mild detergent.
Next, you will want to clean the entire surface of your tawa really well and then make sure that you dry it thoroughly.
After it is dry, go ahead and apply some oil all over the entire cast iron tawa, you can use your hands to make sure you don't miss any spots underneath.
Now you need to heat it either in an oven or on a low flame or temperature (depending on whether you are using gas or an electric stove) and keep applying more oil on the center until it is smoking and completely covered in the oil.
Once it has smoked, you need to let it cool down. You should not overheat your cast iron tawa on the first use.
When it is completely cooled down, you can wipe it with a cloth to get any excess oil off.
This process should be repeated twice without using any water or washing it in between.
You should now repeat the process with just the oil for the next 3 to 4 times.
You don't need to do all these steps in one day unless you plan to immediately use your cast iron tawa. It's perfectly fine to take a few days to do the entire process, and your body will probably thank you for allowing it to take a break from this process.
You'll want to slowly get your cast iron tawa used to the higher temperatures after finishing the above process. You can do this by reducing the heat source you are using to either a low temperature or a low flame if using a gas top stove. Don't be shy when adding the oil; it needs to have a generous amount to be able to season accordingly.
If you are now able to use your cast iron tawa at higher temperatures or a full flame without it smoking, then your cast iron tawa is now seasoned and ready to be used regularly. You can also use some water in between when the temperature becomes too warm in the middle. Be sure just to add a few drops of water and watch it burn, then wipe it and add more oil with a brush.
Be extra careful while doing this because sometimes the water will sizzle, and you could get burnt, so maybe use oven gloves while doing this step before using your cast iron tawa for cooking your dosa. To add more seasoning, take half of an onion and rub it all over your tawa when it's thoroughly heated. This is the final step, and now you can begin making dosas!
Your dosas should never stick to your cast iron tawa or burn when you have followed these instructions. However, if you are using your cast iron tawa for cooking other foods that are more acidic, you might find a black layer on the surface of your cast iron tawa. Don't worry; this is normal and can also happen after multiple uses over an extended amount of time.
In order to ensure that your cast iron tawa doesn't rust, keep it oiled at all times. The only thing you should be using to clean your cast iron tawa is warm to hot water. Never use any detergents or chemicals on your cast iron tawa once it has been seasoned. Make sure that your cast iron tawa is completely dry after washing it, and apply some oil all over it for maintenance.
How to Choose the Perfect Cast Iron Tawa
When looking to purchase the perfect cast iron tawa, you need to take a few things into consideration. You'll have many options to choose from and knowing what matters most is essential for getting the best cast iron tawa that will meet all your cooking needs.
Here's what you need to look at:
Size – Cast iron tawa's come in a variety of sizes and can range anywhere from eight to sixteen inches in diameter, and can be round or even square. The larger size cast iron tawa is best for making dosa and roti.
Material – We have found that cast iron tawa's are best since they are the most durable and last a lifetime. They also provide more evenly results when cooking due to the heat temperature being maintained for longer periods of time. Your cast iron tawa should be considered nonstick, and that can be achieved by following the steps above for seasoning your cast iron tawa.
Handle(s) – You'll want to look for a cast iron tawa that provides some type of handle that makes moving your tawa around safe and easy to use. You'll also need to pay attention to whether or not the handle is heat resistant.
Warranty – When looking to purchase a cast iron tawa, you'll want to check and see what type of warranty the manufacturer is offering. Since most cast iron products generally last a lifetime when taken care of correctly, many of the manufacturers offer limited lifetime warranties. The limited part normally falls under whether or not the cast iron tawa was mistreated or not.