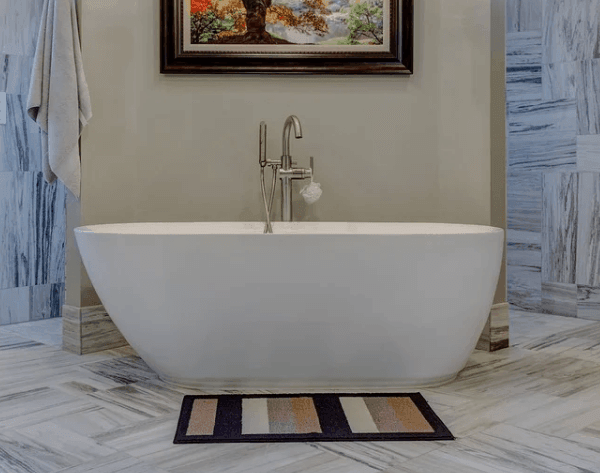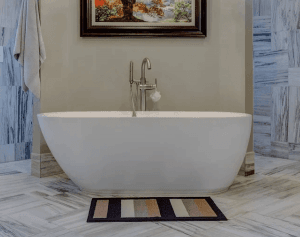 There is nothing more enchanting than walking into a bathroom with elegantly designed cast iron tubs bearing astonishing bronze or chrome claw feet. These characteristics and traits have made cast iron tubs both timeless and absolutely beautiful. Thanks to modern manufacturing, the gorgeous clawfoot cast iron tubs are a luxury that you'll be soaking in for years to come.
If you would rather skip the claw feet and go for a more modern design, then we have found the perfect cast iron tubs to complement your space. Below you will find our top choices for the best cast iron tubs ranging in various styles, shapes, and sizes to accommodate just about any size bathroom.
1. Cast Iron Slipper Tub
Nothing says luxury more than cast iron tubs with elegant claw feet to showcase the bathtub in your desired location. This cast iron slipper tub can transform any bathroom into a glorious space that feels like a spa in your own home. This contemporary freestanding bathtub is made with high-quality cast iron and has a porcelain interior that has been designed to shine.
The bronze claw and ball feet give the added touch to these incredibly durable cast iron tubs. The oval shape that slightly elevates on one end is perfect for resting your head while relaxing in this gorgeous bathtub.
Size: 67 Inches
Capacity: 53 Gallons
Weight: 320 lbs.
2. Swedish Cast Iron Tub
The chrome claw feet on this Swedish designed cast iron bathtub gives the look and feel of a wonderful mix between modern and contemporary. It's made from solid cast iron and is exceptionally well made. The height of this bathtub allows maximum water depth for enjoying more extended baths while your body is entirely surrounded by water in this large tub.
The design of this cast iron Swedish tub makes it incredibly easy to install in small spaces so that every home can enjoy the luxury of a strong, beautiful, deep cast iron tub. The smooth porcelain interior allows you to enjoy the strength of cast iron without the bulky feel.
Size: 54 Inches
Capacity: 42 Gallons
Weight: 320 lbs.
3. Cast Iron Slipper Clawfoot Freestanding Tub
This freestanding cast iron slipper tub comes with bronzed oil rubbed feet and a sleek oval design that anybody would love in their bathroom. This tub was constructed with durable cast iron and will last you a lifetime of pleasure. If you're looking for a contemporary bathtub that brings more elegance into your space, then you'll want to check this cast iron tub out.
The smooth, easy to clean porcelain finish on the interior will have you wanting to spend hours soaking in this beautiful cast iron tub. There are no pre-drilled holes in this bathtub for the faucet, which allows you to install your favorite design wherever you desire.
Size: 61 Inches
Capacity: 46 Gallons
Weight: 320 lbs.
4. Clawfoot Cast Iron Rolled Rim Tub
This cast iron vintage style bathtub is very substantial and incredible looking with its oil rubbed bronze claw feet. It is perfect for a day or evening of 'comfort soaking' and enjoying the atmosphere. The design is contemporary and is considered very classic looking. The rolled rim gives this heavy-duty cast iron tub the look and feel of an old-world vibe.
This cast iron tub's smaller size allows it to be installed in compact bathroom spaces, creating a more luxurious experience. This tub will be the talk of all your guests with its timeless elegance.
Size: 55 Inches
Capacity: 33 Gallons
Weight: 310 lbs.
5. Cast Iron Skirted Tub
This dark grey cast iron skirted tub adds a unique charm to any bathroom or space. It features a unique double-slipper design, with both ends of the cast iron tub curving upwards. This allows comfort and has just enough curve to give you that extra bit of support while you are bathing. The construction is made from durable cast iron and will last you a lifetime of enjoying warm baths.
It is freestanding and comes with a pre-drilled overflow hole while the drain has been placed in the center. This cast iron tub comes with a lifetime warranty and an expert customer support team always a phone call away.
Size: 67 Inches
Capacity: 30 Gallons
Weight: 434 lbs.
6. Cast Iron Double Ended Slipper Tub
This incredible cast iron double ended slipper tub was designed with elegance in mind. You can easily fit two people in this bathtub, and both will enjoy the contoured look and feel on each end. If you're looking for a cast iron tub that is contemporary and gives a romantic vibe, then you'll definitely want to check this cast iron tub out.
This extremely durable cast iron tub can add charm to any bathroom design and take your decor up to a new level. The oil rubbed bronze feet are the perfect addition for making this cast iron tub perfect.
Size: 71 Inches
Capacity: 44 Gallons
Weight: 450 lbs.
7. Cast Iron Soaking Clawfoot Tub
If you ever dreamed of comfortably relaxing in a gorgeous cast iron tub while reading your favorite novel, then here's your chance to make that dream a reality. This well-designed cast iron tub has a raised end to support your neck and head while you enjoy your bath time. It comes with white claw feet that have a seamless effect that makes everything blend amazingly.
Adding vintage elegance to your space has never been easier. The white on white look gives any bathroom a clean and sleek appearance. This cast iron tub is made from robust and durable cast iron and comes with a lifetime warranty.
Size: 57 Inches
Capacity: 35 Gallons
Weight: 325.1 lbs.
Advantages of Cast Iron Tubs
There are many advantages of choosing cast iron tubs outside of the unmistakable look and feel that they bring to any space. But, when it comes down to being both durable and attractive, cast iron tubs steal the floor. The heavy foundation found with most cast iron tubs means these tubs were designed to provide a lifetime of use.
The cast iron material always retains heat better than any other material, which is the most significant benefit when wanting to soak in your bathtub for hours on end. In addition to their extreme durability, these cast iron tubs also boast an attractive finish. The porcelain interior finish has a beautiful glossy sheen that adds luxury to your space.
The best advantages of choosing cast iron tubs include:
Last a Lifetime
Retains Heat Longer
Strong and Durable
Easy to Clean
Minimum Maintenance
No Chipping or Cracking*
Thick Enamel Finish
*Note: If you drop a heavy object onto the rim or interior part of cast iron tubs, you do run the risk of damaging or chipping the tub.
Are Cast Iron Tubs Better Than Acrylic?
Cast iron tubs are one of the most durable tubs on the planet, and when properly taken care of with the minimum maintenance required, they can last for many generations. Cast iron tubs generally require less upkeep than acrylic tubs and are an excellent choice for any bathrooms that receive a lot of traffic.
Whereas acrylic bathtubs are also considered to be durable, they are not indestructible. In fact, cheaper acrylic bathtubs can easily warp and crack if not properly maintained or are installed poorly. Acrylic tubs are also more prone to staining than cast iron tubs, which means that a more strict and rigorous cleaning schedule must be adhered to with acrylic.
Cast iron tubs are best known for their extraordinary ability to absorb heat and also transfer it. Cast iron tubs can keep your bath hot warmer for more extended periods of time than any other material, including acrylic bathtubs. However, even though cast iron tubs can be quite cold to the touch, the moment you begin to fill it with warm water, the heat automatically begins to transfer.
Since acrylic bathtubs are typically made from synthetic materials, their ability to transfer heat is not good and can't be compared to the cast iron tubs heating abilities. When you're filling your acrylic tub with hot or warm water, it can retain heat to some degree, but nowhere near as well as cast iron tubs.
Faucet Holes vs. No Faucet Holes
When it comes to selecting your cast iron tub, you might want to go all out and add that fancy external faucet that you see in a lot of historic manors. So choosing to have faucet holes or not is entirely up to personal preferences. However, if you are planning on having the faucet attached to your cast iron tub, then you should opt for one that comes with pre-drilled faucet holes.
There is a wide range of different faucet types that can be used with cast iron tubs that require pre-drilled holes or no holes at all. Here are some different faucet options to consider:
Freestanding
Deck Mounted
Wall Mounted
Tub Wall Mount
Roman Style
Tip: When choosing your next tub faucet for your new cast iron bathtub, please remember to consider the tub type, matching finishes, rate of water flow, and any additional accessories, such as the all-important hand shower.
How Long Will a Cast Iron Tub Last?
Cast iron tubs can last a lifetime when properly taken care of and maintenance accordingly when needed. The porcelain finish typically lasts anywhere from 15 to 25 years, depending on how often it was used. But the good news is, cast iron tubs are timeless pieces from the golden ages and can quickly be restored or refurbished.
You can easily maintain and extend your cast iron tub by merely wiping it down and drying it after each use. Although this is not necessary, it can help prolong the life of the porcelain finish. People often wonder what products they should use on their cast iron tubs, and we want to make it very clear that you should never use any abrasive products or strong chemicals on cast iron tubs.
In fact, some of the most effective cleaning agents for cast iron tubs are found right in your kitchen and are considered popular household products. These include both vinegar and baking soda. In using these regularly, you will be able to keep your cast iron tub looking bright and shiny for many years.
Cast iron tubs are simply made by pouring iron into the desired mold and then allowing it to cool and harden. As you probably already know by now, cast iron tubs are very resistant to almost all chemicals, and they are practically impossible to dent or scratch. However, if you drop a heavy item onto the edge or in the tub itself, you might damage it due to the impact.
Cast iron tubs normally come with an enamel coating on them, and then they are fire polished to give them a smooth feel and overall appearance.
Why Are Cast Iron Bathtubs So Expensive?
The lifespans of all bathtubs can vary drastically depending on how well-made they are. Cast iron tubs are known for their extreme durability, lasting decades, and the ability to retain heat longer than any other type of material used for making bathtubs. When you think about how cast iron tubs are created, you'll begin to understand why they carry a higher price tag.
The construction of cast iron tubs starts with the iron ore, and the metal is molded into the desired shape of the tub as it begins to melt. Cast iron tubs are generally more costly due to the expensive material base that is used, which gives bathrooms an elegant, high-class, vintage vibe while also being a timeless piece that many people envy.
When deciding to purchase cast iron tubs for your home, you are literally investing in your home's appeal. There is nothing more incredible looking than entering a bathroom with a vintage cast iron tub.